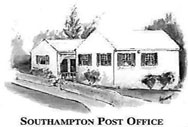 The Southampton Post Office will re-open on January 4th, 2022.
The Bermuda Post Office [BPO] is advising the public that the Southampton Post Office will remain closed until January 4th, 2022 due to continued work being done on the building.
The public will recall that since August, the Southampton Post Office has been undergoing renovations, which include expansive floor repairs, plumbing upgrades and electrical work.
We would like to take this opportunity to thank the area residents and businesses for their continued patience and understanding as the necessary upgrades are near completion.
The BPO wishes all valued customers a safe holiday season.